If you would have asked me a year ago what would I be doing in 2017, I would not have even thought singing at Carnegie Hall was a possibility.
A year ago friend and music director Scott Pietrangelo asked me to sing as part of a promo video for a new group he was creating called Soundcrowd, a large scale A Capella group with a performance team.  Of course I said sure, why not.   I had no idea the journey it would take me on over the past year.   I immediately fell in love with singing A Capella and had more fun singing than I have had in a long time.  Because it was purely for the joy of singing and the love of singing.   So without hesitation I jumped on board and joined the performance team!!!!
In September 2016, the group started rehearsing and right away a bond like no other was created.  A family was born.  With only three months together as a group we had the pleasure of performing with Steven Page at the Danforth Music Hall, and since then many other concerts and appearances.  But what really took the cake was the opportunity to perform at Carnegie Hall.   We were going to be a part of Total Vocal III led by Deke Sharon (from those Pitch Perfect movies, and In Transit on Broadway)  no big deal right.   Until we had to audition for a featured choir spot and featured solos.   Out of the many choirs attending and hundreds of people, I was not surprised when Soundcrowd got selected for a featured spot (because we rock), but I was totally stunned to learn I would be singing a featured solo.   A solo on the Carnegie Hall stage.  Me! Really???!!!!  My heart just about leapt out of my chest.  You see I'm usually the person who is not chosen for things, or the last one picked when people pick teams….you know, that person.  To be chosen and have this opportunity was something I am so grateful for.
It had been years since I was in NYC, and given I reside in Toronto and have a three year old and husband with his own business, I never really thought I'd ever get to work there as a performer.  I Just never put it on my radar.   But being in NYC that week really changed my view on things.  Walking through central park, seeing friends who are on broadway (in Come From Away no less, with 7 Tony nominations), and going to see broadway shows where I could just picture myself on that stage, and of course performing for 2500 people at Carnegie Hall just reassured me this was my place in life.  This is what I am meant to do, and striving for a broadway stage is what I need to do to become the best performer I can.  Whether I ever get there, as long as I aim that high, wherever I end up I can't fail.
I fell in love, or rather re-fell in love with why I chose to do this for a profession, and became more confident that I can actually do it.
This was an experience I will never forget and hold close to my heart forever.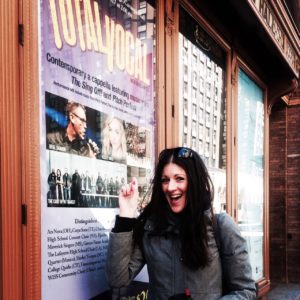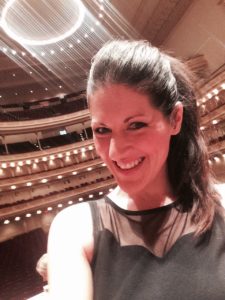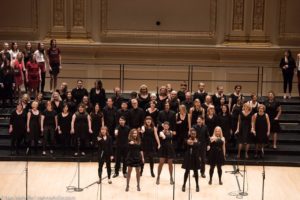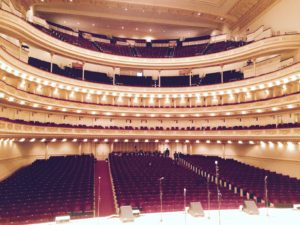 For anyone in Toronto, looking for a place to sing, learn, grow, love, feel joy, be supported, be encouraged, I urge you to check out Soundcrowd.